What are Raw Vegan Kitchen Essentials?
1. Heavy-Duty Blender
Now you might think that a blender is the exact same thing as a food processor – I did – but think again! Blenders are typically for use just with liquids, whereas food processors are used for more laborious tasks, like report-writing, getting the kids ready for school and mowing the lawn.
A staple of many vegan and raw vegan YouTubers, the Vitamix, though more expensive than other less effective blenders, is a must in any kitchen, and will power through most concoctions, liquid or not. From vitamin-packed smoothies to aromatic soups, it will attend to all of your raw vegan needs and have you producing perfect aesthetically pleasing chia bowls that even Fully Raw Kristina would be jealous of. You will be well on your way to #livingyourbestlife with a purchase of one of these amazing feats of technology. You can vary the speed to create the desired consistency, grind nuts for natural nut butters, and it even cleans itself. Enough said.
Related Post: Five reasons why every raw vegan should buy a Vitamix








---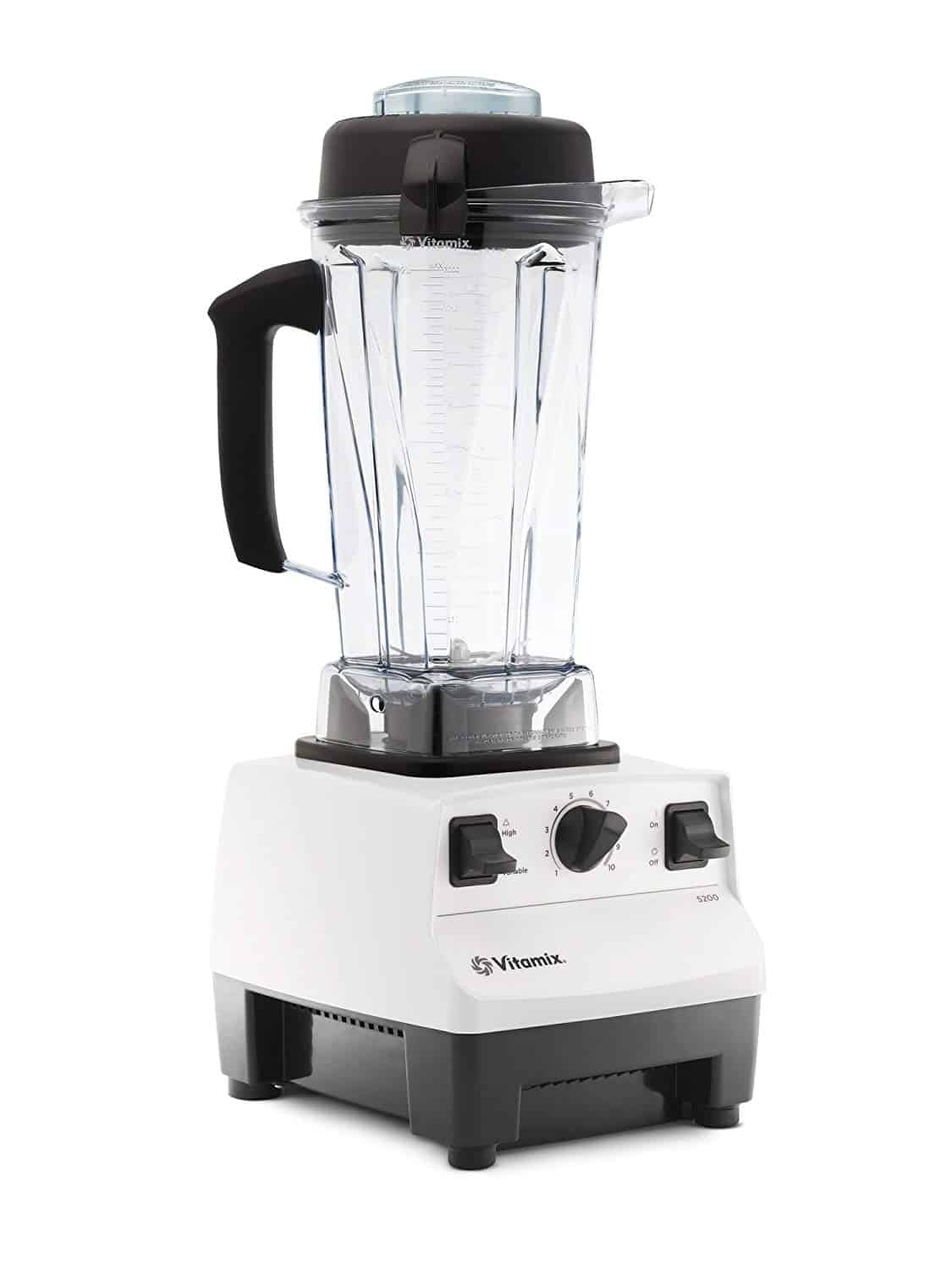 Best Blenders for Raw Food Lifestyle
---
Best Food Processors for Raw Food Lifestyle
---
2. Food Processor
Why every raw vegan needs a food processor?
Whilst it's possible to be raw vegan without one, having a food processor as a raw vegan opens the door to a whole new wood of culinary possibilities: pizzas, cookies, lasagnas. The sky really is the limit!
What do you use it for?
So aside from pizzas, cookies and lasagnas, there's not much that can't be raw-vegan-ized with a food processor. Food processors chop, process and grind ingredients, which allows for a massive variety of raw vegan amazingness to be whipped up in your kitchen. How about these hazelnut cacao truffles? Or this super fresh cauliflower rice tabbouleh?
Which is the best food processor?
If you're anything like me, and love a good bargain, you'll spend $20 on a food processor, basking in the glory of spending as little as possible on something that people pay hundreds for, quickly realizing that it would be much cheaper and quicker to process your cashews and dates by hand with a teaspoon. You'll be there for a week and a half, but you'll still have your 20 bucks. Don't make the same mistake I did, and invest in a really good processor, that will make living the raw vegan life easy.
This Cuisinart DFP-14BCNY 14-Cup food processor features a powerful motor that will make all raw recipes a doddle. Whether you're processing cashews for a 'cheese' sauce or dates for your unbaked brownies, this processor will tackle it much quicker than beating it by hand with a spoon, and certainly much quicker than that $20 waste of space. Happy processing!
Cuisinart DFP-14BCNY 14-Cup Food Processor
Best Overall
Breville BFP800XL Sous Chef Food Processor
Hamilton Beach Food Processor with 14-Cup Bowl
KitchenAid 14-Cup Food Processor with Commercial-Style Dicing Kit
Braun FP3020 12 Cup Food Processor
Best Small/Mini
KitchenAid 3.5 Cup Food Chopper






Attachments
Standard Slicing Disc (4mm) and Medium Shredding Disc, Chopping/Mixing Blade
5 disc attachments, 3 blade attachments, 2 different sized bowls
5 attachments: dice, slice, shred, knead, chop, mix and puree
Adjustable Slicing Disc, Reversible Shredding Disc, Multipurpose Blade
7 Attachment Blades + Chopper and Citrus Juicer
One stainless steel multipurpose blade: chop and puree
Warranty
Full 5-year Motor Warranty; Limited 3-year Warranty on Entire Unit
25-year motor warranty; 1-year limited warranty on unit
Not all juicers are created equal, but an effective, powerful one will be your new best friend. The whole point of a raw vegan diet is to access the abundance of vitamins and minerals found in fruits, vegetables, nuts and seeds, which give you that boost of energy and healthy glow, so the ability to do this quickly is a must, especially for those with a hectic schedule. Not only does the Omega J8006 Nutrition Centre Masticating Dual-Stage Juice Extractor sound like something made by NASA, but it also presses and squeezes your ingredients, rather than tearing them apart like many others on the market, producing larger quantities of juice, bursting with goodness. For first timers, try a guide like 'Juicing for Beginners', which explains the benefits of juicing and offers plenty of recipes. Make sure to tell all your friends that you're juicing, and how juicing has changed your life, and how much energy you're getting from juicing. They will not get bored of it.
Best Juicer Machines 2019 Reviewed
Editor's Choice
Omega NC900HDC Juicer





Speed
Two speeds: 12,000RPM or 6,500RPM
Warranty
1-year limited product warranty
1-year limited product warranty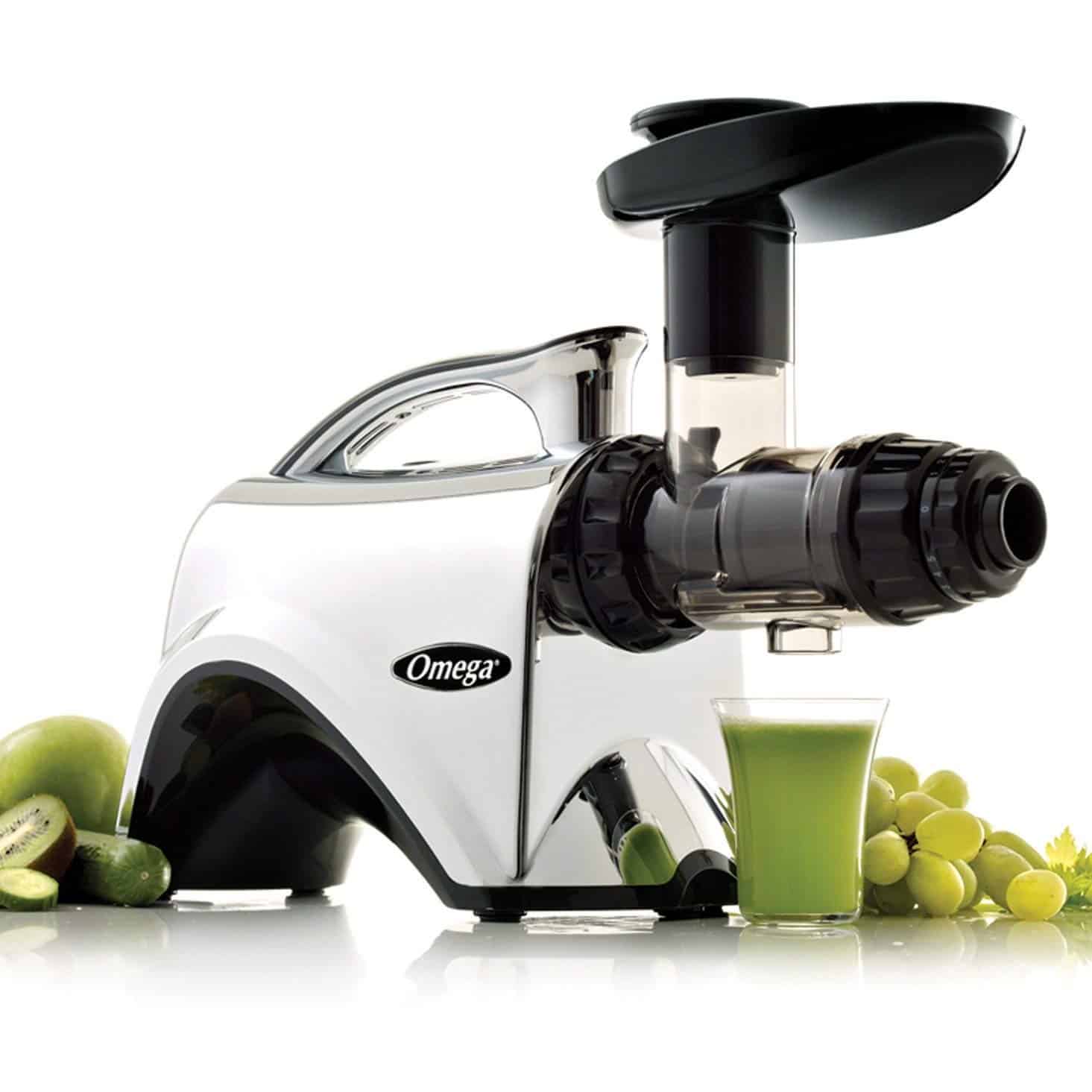 Best Juicer Machines 2019
---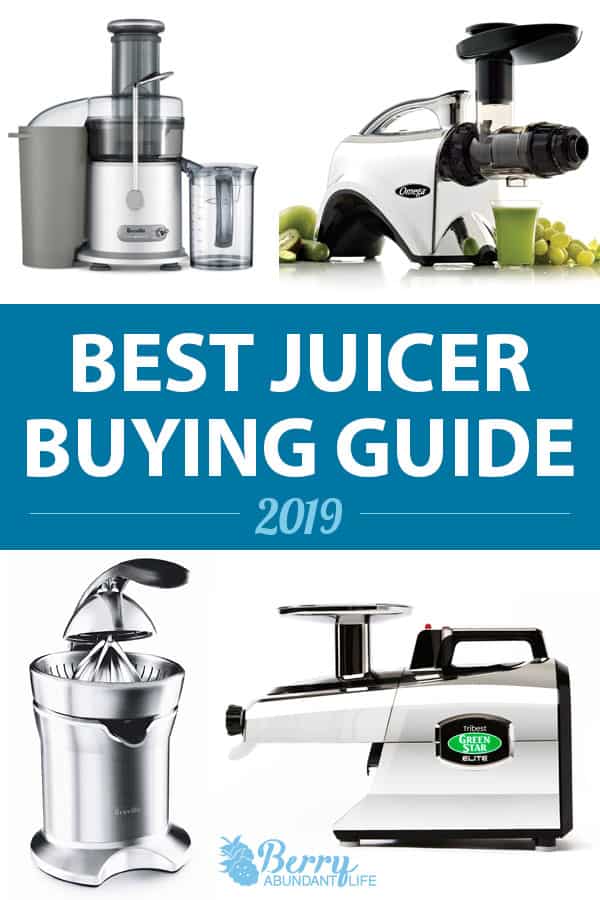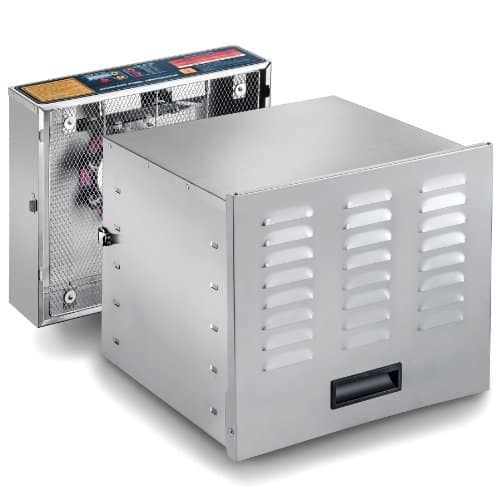 Best Stainless-Steel Food Dehydrators
---
---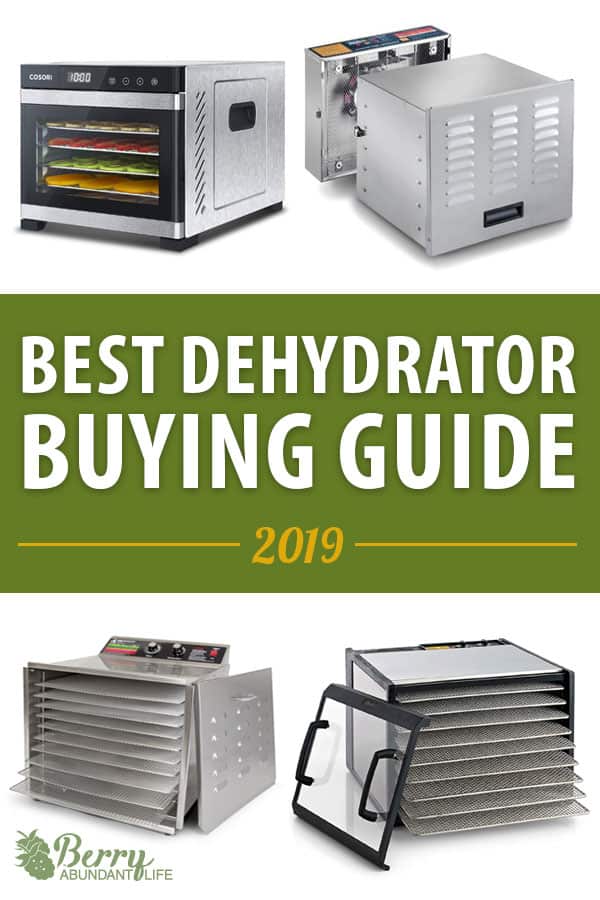 Perhaps the most enigmatic on the list, the dehydrator is still a lesser known piece of equipment, but one that can completely change your perception of the raw vegan diet. It's worth investing in this piece of awesomeness, which works by circulating warm air to remove the water from food, preserving its life and intensifying its flavor: a raw food 'oven', if you will.
Do you need a dehydrator on a raw food lifestyle?
Dehydrators are an amazing addition to any raw vegan kitchen. Get ready for a roller coaster of flavors that will satisfy even those with the pickiest of pallets. Think cinnamon sugar pear chips, habanero pepper crackers and cacao pecan crème sandwich cookies: dishes fancy enough for the Queen of England, but surprisingly simple with a dehydrator like this one from Excalibur. Affordable and great value for money, its patented Hyperwave technology removes water effortlessly, making for an exciting adventure into the world of raw vegan cuisine.
Benefits of dehydrated fruits and vegetables
Apart from the obvious storage advantages of dehydrated fruits and veggies (you can store them for up to 6 months!), dehydrated produce retains the same fiber levels, as well as most of the minerals and vitamins found in fresh produce. They also contain the same antioxidant levels as fresh.
STX Dehydra 1200W – Best Value Food Dehydrator
One of the best value dehydrators on the market is the STX Dehydra 1200W. At under 300 bucks, this powerful kitchen tool will have you whipping up a whole world of raw vegan treats with ease. With 16 square feet of drying space and 10 stainless steel trays, it's a fab addition to your raw vegan kitchen.
Best Deal
STX Dehydra 1200W
TSM Products Stainless Steel Food Dehydrator
Tribest Sedona Classic SD-S9000-B Dehydrator
Most Affordable
COSORI Dehydrator CP267-FD





Square feet of Drying Space
Dehydrator Dimensions
17" W x 19.6" D x 14.5" H
12-1/2" H x 17" W x 19" D
Trays Dimensions
16 1/4" x 14 1/2" stainless steel
15.25" x 13", Stainless Steel
12"X12 5/8", stainless steel
Material Type
Trays: stainless steel; Exterior: Metal. Interior: Plastic.
stainless steel; glass front door.
Best Deal

Square feet of Drying Space
TSM Products Stainless Steel Food Dehydrator

Square feet of Drying Space
Trays Dimensions
16 1/4" x 14 1/2" stainless steel
Tribest Sedona Classic SD-S9000-B Dehydrator

Square feet of Drying Space
Dehydrator Dimensions
17" W x 19.6" D x 14.5" H
Trays Dimensions
15.25" x 13", Stainless Steel

Square feet of Drying Space
Dehydrator Dimensions
12-1/2" H x 17" W x 19" D
Material Type
Trays: stainless steel; Exterior: Metal. Interior: Plastic.
Most Affordable
COSORI Dehydrator CP267-FD

Square feet of Drying Space
Trays Dimensions
12"X12 5/8", stainless steel
Material Type
stainless steel; glass front door.
Imagine trying to cut a watermelon with a blunt knife on the daily. At some point, you're gonna lose a finger. To retain all limbs and digits, a good quality knife for cutting your fruits and veggies is essential. This Mercer vegetable knife will chop your watermelons like a pro, with its non-slip grip and excellent balance, allowing you to enjoy a delicious piece of fruit with your hand fully intact. Chop away!
A ceramic knife is similarly crucial in your raw vegan kitchen and, it appears, is totally in culinary fashion right now. It not only stays sharp for the rest of time – or longer than steel ones at least – but it will slow the process of discoloration when it comes to our fruits and veggies compared to using stainless steel. My personal favorite ceramic knife set is this one. A set of 4 knives – a 7" chef's knife, 6" serrated knife, 5" santoku knife and 4" paring knife – along with a knife block and chopping board, its high performance and durability makes it ideal for a raw vegan lifestyle. The knives feature ultra sharp ceramic blades, are rust-free, scratch-proof and 10 times stronger than stainless steel. Not bad for a simple knife set!
A good cutting board is essential for all of those wonderful veggies you'll be chopping, slicing and dicing. And this extra large organic bamboo cutting board ticks all the boxes. Not only is it eco-friendly, but it's super durable, so should see you through
years of preparing delish raw vegan meals.
Or, this John Boos maple wood reversible cutting board, made in the USA, is a great choice. With integrated hand grips on each end and measuring a generous 2.25 inches thick, even the toughest of butternut squashes won't escape a chopping.
One of my favorite things to make is zucchini lasagna, especially for my friends and family. 'But what do raw vegans eat, though?'
A beautiful, appetizing dish, it relies on a good quality mandoline to get the zucchini noodles just right. This multifunctioning mandoline is the perfect product to have you producing dinner-party-quality meals that will dazzle even the most skeptical in your social circle. Want to wow them even more? It will slice, shred and grate your veggies, allowing for some amazing garnishes and sides. Remember to be humble when they realize that a raw vegan lifestyle involves eating some incredible food, boosts in energy levels, clearer skin and an extended life, and proceed to ask you for your favorite recipes. Also, try to resist the urge to say, 'I told you so'.
Spiralizers, although at the tail end of their burst of popularity over the last couple of years, are a vital product in the raw vegan kitchen.
Like a mandoline, they allow you to create stunning, intricate dishes that fight the stereotype of raw vegan meals as nothing more than bowls of limp lettuce. Instead, with a Spiralizer 5-Blade Vegetable Slicer, you can create varying textures and styles of vegetable 'spaghetti', my favorites being butternut squash, carrot and zucchini. Team a mixture with this flavorful raw chili, and you have yourself a sumptuous dish of healthy goodness, bursting with color and ready to revitalize your body and mind.
Not only do mason jars look awesome when filled with acai and posted on Instagram, but they're a great, eco-friendly way to store food in your raw pantry and fridge. From nuts and seeds and dried foods to smoothies and juices, grab some mason jars to suit all of your food storage needs!
You can even get mason jars and lids with glass or metal straws included, for smoothie and juice sipping on the go.
Nut milk bags aren't as scary – or weird – as they sound. And they're a must have tool in your raw vegan kitchen. Made completely from organic cotton, this nut milk bag, and a powerful blender, is all you need to make your very own nut milk.
There are loads of handy guides available online to making your own nut milk, including this one by The Minimalist Baker, which explains that, all it really takes, is soaking nuts overnight, blending in a powerful blender, and straining with a nut milk bag.
Et voila!
12. Measuring Cups and Spoons
Whilst the raw vegan diet is super simple, that doesn't mean you can't whip up some fancy recipes like these raw vegan red velvet truffles, raw vegan lemon cheesecake or this raw vegan lasagna. All require measuring cups and spoons to get the quantities absolutely right, so it's worth investing in some decent ones.
This 12 piece measuring cups and spoons set is rust resistant and has a great, colorful design, making it the perfect accessory for your vegan kitchen for those dry ingredients.
What about liquids and other wet ingredients? This Oxo Good Grips has got you covered – the jug is perfect for measuring any wet ingredients.
Now that you've measured your ingredients, you're gonna need a bowl to mix them with. This set of glass mixing bowls is great because it comes with airtight lids – no more food wastage or worrying about having food containers large enough for your big bowls of fruits and veggies!
And this set of Oxo good grips BPA-free bowls is a fab addition, as they all have pouring spouts: great for all those raw cheesecakes you'll be 'baking'.
What are Raw Food Kitchen Nice-to-Haves?
So there you have it.
A guide to the raw vegan kitchen equipment essentials that will grant you to access the life-changing benefits of the diet and have you whipping up Michelin-starred dishes in no time. Bowls of limp lettuce? Not in your kitchen.