Note: Affiliate links may be used in this post. I may receive a small commission at no extra cost to you if you make a purchase through my affiliate link. Please read my disclosure for more info.
Celery juice, despite what the name might suggest, is incredible. If you haven't yet discovered the wonders if this life-giving elixir, you really need to. Like, quickly. When I found out about the myriad benefits of celery juice, I thought 'awesome, but it's celery though'. Although it might not sound appealing initially, celery juice is wonderfully fresh, crisp, sweet and an absolute star of the health world and it is so easy to make at home with the best juicer for celery juice.
Celery juice benefits are so widely praised that there's now an official 'global celery juice movement'. Instead of a sugar-filled, fat-laden latte on waking, millions of people are starting their day with a glass of the green stuff, and feeling amazing as a result. Originated by #1 New York Times bestselling author Anthony William, or, as he's also known, The Medical Medium, a morning celery juice not only helps you feel great, but has helped to reverse everything from digestive issues to autoimmune diseases.
So if you're ready to put this beautiful green juice to the test, what are the best juicers for celery to get you started?
Related Post: 9 Unbelievable Benefits of Celery Juice, And How It Should Replace Your Morning Coffee
I ditched my morning coffee for a morning celery juice, and I've never looked back. Now, instead of caffeine highs and lows, cravings and headaches, I'm full of energy and ready to tackle the day ahead.
What type of juicer machine is best for celery juice?
Which is better for celery juice: a masticating juicer or a centrifugal juicer?
You may have heard these terms for juicers, and thought they were completely made up. Whilst they sound super technical, the main difference between centrifugal and masticating juicers is simply that masticating juicers chew and grind the produce slowly, whilst centrifugal juicers are generally pretty speedy.
There are advantages and disadvantages to both of course.
Centrifugal are the most common type, and tend to be some of the cheapest. Their speed makes them great for those with busy lifestyles, but they also tend not to extract as many nutrients from your fruits and veggies as masticating juicers. Their slow grinding of produce means that maximum juice is yielded, packed full of wonderful vitamins and minerals.
And, because the whole point of celery juice is to unlock its healing potential, a masticating juicer, which chews and grinds the produce slowly, is gonna be the best option for this brilliant beverage.
If you've ever looked for a juicer, or any kitchen appliance, you'll know it can be confusing and stressful to say the least. With so many on the market to choose from, the finding-the-right-juicer struggle is real.
So which juicers are the best for celery?
Best Juicers for Celery 2020
Comparison Table
Best Budget-Friendly Juicer
Aicok
Top Features:
High tech spiral system
Yields max juice
Minimizes oxidation
Quiet motor
Easy to assemble and clean
---
This Aicok slow masticating juicer is an awesome pick for celery juicing. With a super high tech spiral system, it yields max juice and minimizes oxidation (the browning of fruits and veggies). Because it grinds and processes your produce slowly, it doesn't create too much heat, preserving all the vitamins, minerals and enzymes abundant in your celery.
And (can you tell I like this one?) if you like a celery juice of a very early morning like me, this juicer won't wake the rest of the family… probably. It has a super quiet motor, and it's easy to assemble and clean.
If all of that wasn't enough, its 2-year warranty gives you piece of celery mind that you're gonna be enjoying your morning glass for a long time to come.
With 4.3 out of 5 in over 450 reviews, it also gets the customer seal of approval. One reviewer says it performs better than their $600 juicer, and another confirms that it is indeed quiet compared to other juicer machines. And at under $150, it's great for those on a budget.
What's not to love?!

Top Features
Unmatched 15-year warranty
Grinds produce slowly
Minimizes oxidation
Quiet motor
Makes juice, nut butter and frozen desserts too
---
So I've talked in a few articles now about my love for this fancy pants piece of juicing kit. And that's because the Omega NC900HDC really does lead the way in juicing. As I mentioned earlier, it has an unmatched 15-year warranty, which speaks volumes about its quality and performance. When it lasts longer than most cars/appliances/relationships, you know it's decent.
It uses slow speeds to grind the produce, yielding max juice and delaying the oxidation process. And not only will it make you a mean celery juice in a morning, but the Omega NC900HDC makes light work of grinding spices and making frozen desserts, baby food and nut milk. A one hit wonder, this ain't.
Despite its power, it has a quiet motor, so you can use it for your early morning juice without too much of a shock to the system. Can you tell I like this machine?
It seems lots of other juice fans do too, with an average of 4.6 out of 5 in over 400 reviews. One reviewer praises its large chute, allowing for larger pieces of fruits and veggies and another says it doesn't produce loads of foam like many juicers do. And less foam equals more juice.

Top Features:
Stylish design
Bio-ceramic magnetic twin gears
Preserves enzymes, vitamins and minerals
Also makes nut butters and frozen desserts
12-year warranty
---
I really love the design of this Tribest GSE Greenstar. It looks more like a large iron than a juicer, and is finished in a super stylish chrome.
Not only does it look great, but it also boasts some fancy features, like bio-ceramic magnetic twin gears. It claims to produce the freshest, highest quality juices by preserving living enzyme, vitamins and minerals in your produce.
This means it can be stored longer before drinking.
Like the Omega, it grinds produce slowly, making a superior juice, and more of it. This handy kitchen aid is also multi-talented. Alongside your celery juice, you can whip up some nut butters, salsas and frozen desserts. Not all together at the same time, but, you know what I mean…
With a 12-year warranty, it's safe to say that this Tribest is a high quality buy that'll yield some beautiful juice for years to come.
It has an average of 4 stars out of 5 in over 300 reviews and is praised for how easy it is to use and the volume of juice it yields compared to a lot of other juicers.

Top features:
Compact design great for smaller spaces
Quiet motor
Portable handle
Juice jug
Safety lock
2-year warranty
---
Looking for a masticating juicer that won't break the bank? Or a machine that'll fit nicely in a compact kitchen? Found it!
This awesome great value and compact Aobosi slow masticating juicer processes your fruits and veggies slowly to maximize nutrition. Like the larger, more expensive juicers, it has a quiet motor and is easy to clean. It has a shorter warranty – 2 years as opposed to 12 and 15 like the other more expensive juicers – but this is a great machine to pick if you're juicer shopping on a budget.
Out of over 200 reviews, it averages 4.6 stars out of 5 – a great sign that even if you're buying on a budget, you can still get plenty of celery juice bang for your buck!
One reviewer recommends chopping your produce up smaller than you might with some other juicers, but they praise how it wastes a lot less than other machines at similar prices and is really simple to clean.

Best Vertical Masticator
SKG Juicer
Top features
Vertical juicer
Takes up less space on the counter
Processes fruits and veggies slowly
Has a handle for easy moving
Clog resistant
---
If you're after a stylish juicer suitable for even the most compact kitchens, this SKG Slow Masticating Juicer is the answer to your celery juice prayers. Despite its extra wide chute, the SKG juicer is built upwards, which means it takes up very little space in your kitchen. Just make sure it fits under your cupboards… it's pretty tall.
This vertical juicer features a super sleek design and a handle for easy moving and cleaning. It promises a high juice yield, is resistant to clogging and has a slow speed motor to delay oxidation.
With 4.1 stars out of 5 on average, this SKG juicer is praised by one reviewer for how quickly it produces a glass of fresh, high quality juice and another says its great for smooth juices for their kids.
It's a great buy for those with less space to play with, and looks the part too!

Top features:
juices produce slowly
retains wonderful colors
easy to clean
available in different designs
can also make soups, smoothies and pulpy juice
---
Why is slow juicing important? Because it maximizes yield and nutrition. And we want as much celery juice as we can possibly get out of the produce we buy.
This Hurom Slow Juicer uses an auger to squeeze the juice out of fruits and veggies, unlike centrifugal juicers which shred them. This allows your beautiful produce to retain its amazing colors and cellular structures.
With a 10-year warranty, you know you're gonna be enjoying your morning celery juice for years to come, and comes in various designs and colors. A style statement and health booster in one handy machine? I'll take it.
Reviewers love how easy it is to clean and how it squeezes every last bit out of juice out of your produce. Tasty.

What's the best juicer machine on the market for celery?
It's pretty clear that there's plenty of choice when it comes to great juicers for celery. But what's the best? The Omega NC900HDC masticating juicer is undoubtedly the cream of the crop when it comes to whipping up this magical juice. Because we're drinking the stuff to unlock the crazy number of benefits that comes with every glass, we want to yield as much juice as we can, along with the maximum number of nutrients.
And you can drink a daily celery juice for the next 15 years with the peace of mind that you're covered with the Omega's epic 15-year warranty. Yep. Suffice to say, this juicer is awesome.
How to make celery juice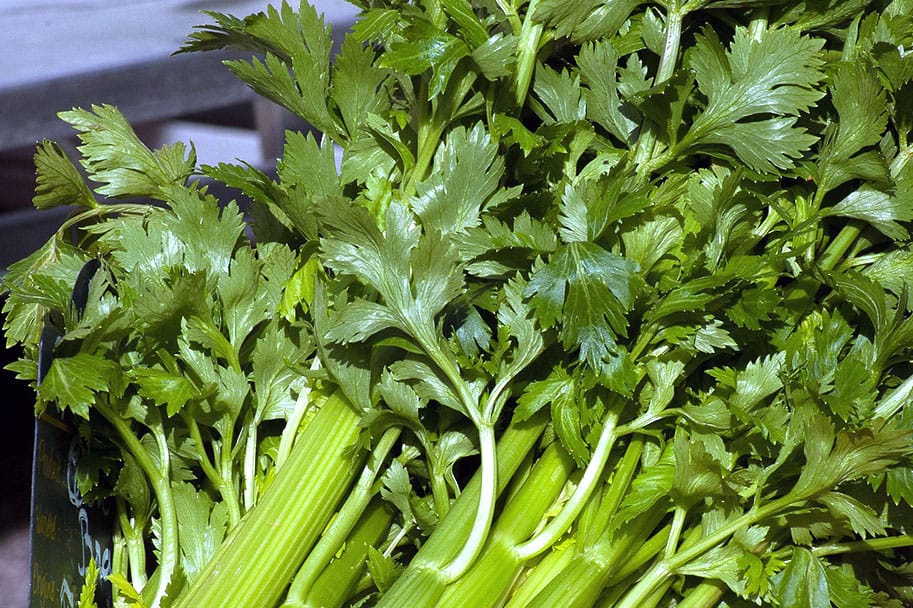 Unlike a heck of a lot of health and weight loss fads, you haven't got to spend hours trawling the internet for 'magical', unpronounceable ingredients, pay for a subscription, or count calories with celery juice. Not that there'd be much to count, to be fair.
In fact, making celery juice requires nothing but a juicer and some celery. Shockingly.
Where possible, the celery should be organic, and use my handy guide above to choose the best celery juicer for you, your kitchen and your budget.
And once you're armed with the best juicer machine and celery – ready to win the health battle – simply juice it up according the instructions for your juicer (and do make sure you read these – some juicers have more buttons than Apollo 13) and sip like you've never sipped before!
After you've taken a picture of your juice and posted it online with a few #newme hashtags for bragging purposes, obviously. My family and I love to sip our celery juices from mason jars. I don't know why, but it really does taste better. Damn you, hipsters.
I also have a selection of various cups and drinking straws for the kids. Whatever helps to make them drink celery juice. I have to admit that they don't mind the taste, but they do like to be fancy. These crazy loop straws have been a hit with my three-year-old lately. I know they are made of plastic, and I do try to avoid plastic as much as I can. These are just some of the cups that I like: for a small baby a bamboo straw cup and for a toddler: a 3 piece cup set with cute designs.
Benefits of celery juice
So I've already mentioned that celery juice is a fantastic morning coffee replacement. But with most of the nation hooked on their morning latte, why should you bother making the switch?
There are myriad health benefits of celery juice that are perfect for a morning pick-me-up. And this list isn't all of them, but I'm sure you've got other stuff to do today. Check out my full celery juice benefits article here for yet more reasons to give it a sip!
Celery juice detoxifies your body
Because celery juice contains a combination of sodium and potassium, it's a natural diuretic, which simply means it makes you pee more.
This supports the body to flush out toxins and eliminate them through your kidneys. Given that it's also about 95% H20 its alkaline make up means it can neutralize acid in the body. In turn, this helps to protect our cells from disease.
It's like magic, but in the form of a super cheap vegetable you can buy from literally any grocery store. How convenient.
Celery juice aids digestion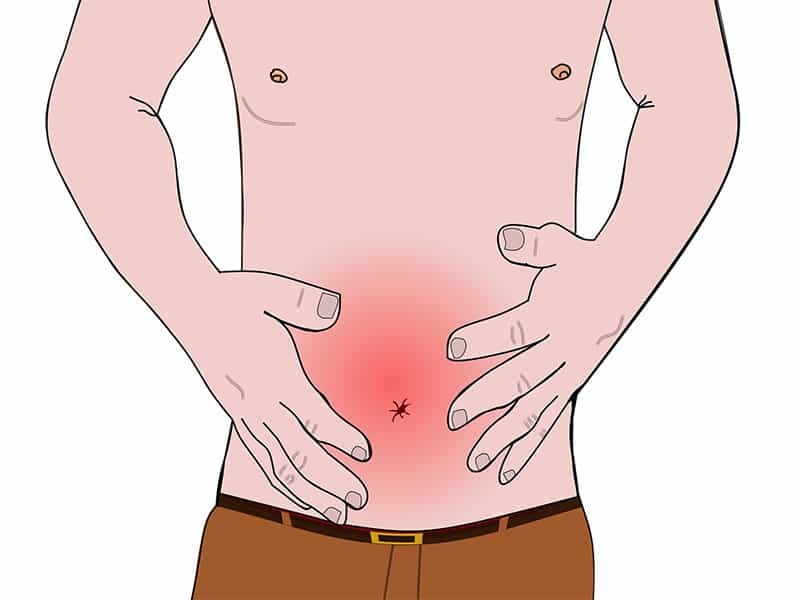 As the Medical Medium explains, or the celery guy, as I like to call him, celery juice can rebuild the stomach's balance and heal our livers. This helps to ease constipation and bloating. To help with digestion, make sure you drink a glass every morning on an empty stomach, and you'll find it much easier to digest the day's food.
It boosts energy levels
Unlike coffee, which gives us an initial boost and then leaves us high and dry when the initial effects have worn off (and pretty quickly, I might add), celery is full of living enzymes which fill our cells with the same living energy.
Whilst coffee leaves us with hangover-like effects pretty soon after the initial buzz, celery juice, especially when consumed on its own, fills our bodies with living enzymes that give us the energy to tackle our days, whatever they throw at us. Unless the thing they throw at us is a broken juicer, in which case, by all means, have a meltdown.
To avoid said meltdown, simply purchase a juicer from the recommended list above…
Celery juice protects our immune systems
This one's pretty obvious, given that celery is packed with vitamin C. When it's consumed regularly, celery and celery juice can help us to avoid common colds and other diseases.
It's easy and cheap to make
It's no surprise to find out that celery juice costs a heck of a lot less than coffee. A morning latte from those well-known chains can cost anything up to 7 dollars a cup, whilst a stick of celery generally adds up to a couple of dollars.
After the initial juicer investment, it costs hardly anything to make a morning celery juice, and simply requires putting said celery into your chosen juicer, and sipping. Not much effort, for a lot of gain.
Celery Juicing Tips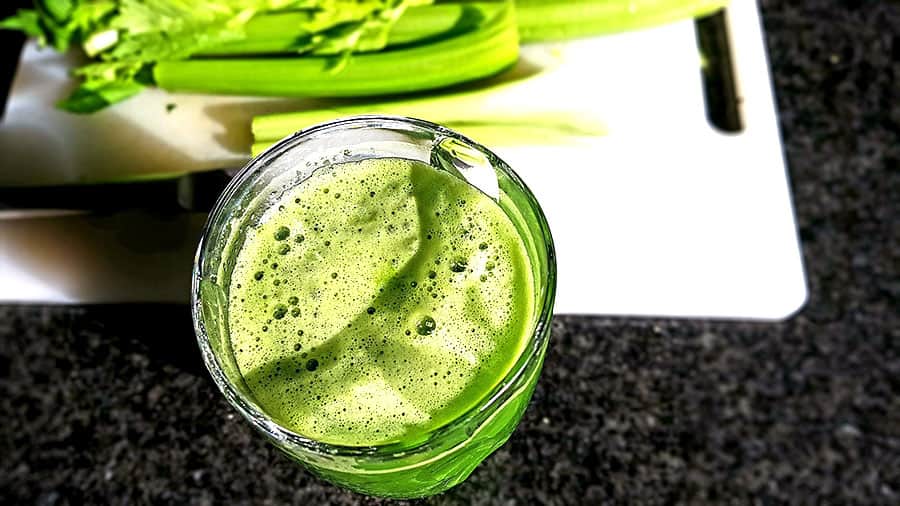 Wash celery thoroughly
Before you juice, make sure you rinse your celery thoroughly, especially if it's not organic. Given the pesticides and insecticides found on many of our fruits and veggies, it's super important to wash these off as much as possible.
Buy organic if possible. Otherwise, a great way to wash it is with Dr. Bronner's unscented soap.
Buy plenty of celery
If you've got a brand new juicer, or haven't tried juicing celery before, it's best to get plenty in. The last thing you wanna do is get excited about your morning juice (you will get to the excitement stage, trust me), put a solitary stick of celery in and come out with 2 sips at most. I normally use two bunches of celery to make a daily amount of juice for a family of four (two little kids).
The amount of juice you get from your celery will depend on the quality and performance of your juicer, so make sure you have plenty to hand the first time you juice. Also, you can never have too much celery in the house. Fact.
Celery Juice FAQs
1. How much celery juice should I drink?
To access all the benefits a morning celery juice brings, about 16 ounces a day is ideal. Of course, there's no harm in drinking more, and increasing this to 24-32 ounces a day is a great way to heal your body if you're experiencing any illnesses.
16oz seems quite specific, right. The reason the Medical Medium recommends 16oz is that it's the right amount needed for the juice to overcome the many obstacles it faces when travelling to your gut, including bacteria, viruses and rancid fats. Sorry, that's pretty gross isn't it…
Drinking 16oz of this wonderful beverage means your body is accessing full health benefits. Of course, drinking less or more is fine, but at least 16oz is optimum.
2. How much celery makes 16oz of juice?
As a general rule, one large bunch should typically make about 16oz of juice, but this of course depends on the size of said bunch (sorry to be so vague) and the quality of your juicer. Make sure you have a few bunches when you start juicing, just in case!
3. When is the best time to take celery juice?
The ideal time to drink a glass of the good stuff is first thing in the morning, before you eat or drink anything else, apart from water of course. It's really important to still eat your breakfast about 15 minutes after your juice, as celery isn't exactly calorific! You're gonna need a decent meal to power you through the day.
If you can't drink your juice in the morning, you could always drink it about half an hour before a meal at any time during the day.
4. What is the best type of celery?
Unless you're a celery grower, celery enthusiast or celery academic (is there such a thing?), you probably won't know too much about the different types of celery. And luckily, you don't need to…
All you need is the common leaf celery found in pretty much every grocery store in the country. So there's no need to spend months hunting for a fancy variety or growing your own… unless you can grow your own, in which case, even better!
5. Do I juice the celery leaves? Or should I cut them off?
It's really up to you whether you juice the celery leaves or cut them off before juicing the rest. Sometimes, the leaves can make the juice bitter. My advice is try both, and see which you prefer!
I like to live dangerously, as you can see…
6. Is it safe to drink celery juice while pregnant? Breastfeeding?
You can absolutely drink celery juice while pregnant and while breastfeeding! As always, listen to your body and, if you feel celery juice is too 'cleansing', try 16oz of cucumber instead.
Celery juice is also great to drink when breastfeeding children because it can provide the baby with vitamin C, and helps to detoxify breast milk.
7. Can I add lemon or lime to celery juice?
It's not unsafe to add lemon and lime to celery juice, of course, but celery works best for your body with nothing added to it, as this could hamper its medicinal benefits.
Just celery and perhaps a little water is all you need to give your body the energy it needs for the day!
8. Does celery juice need to be organic?
Whilst it doesn't have to be organic, it's much better for your health if it is, due to the pesticides and other nasties on non-organic produce. If you can't get hold of organic, though, just wash it thoroughly!
9. Can celery juice cause any change in bowel movements?
Because celery juice helps to detoxify the body, some people might notice a change in their bowel movements when they start to drink a daily celery juice. This is normal, as celery juice helps to purge the liver and rid the body of unproductive bacteria in your gut.
In the long term, celery juice should help to aid digestion and support you to become, as they say, 'regular'. No-one wants the detail, but you know what I mean.
10. How long does it take to feel the benefits of celery juice?
How long it takes for you to feel the crazy number of benefits of celery juice really depends on your health and diet prior to drinking it regularly. You might feel amazing after your first juice, or it might take a while to feel 'better' if your body has to go through the detoxifying process I mentioned before.
And lots of other factors can affect your health of course, including stress. The most important thing is to persevere; your body will appreciate this super juice, whether you feel the benefits initially or not.
11. Is eating celery as good as juicing?
Juicing fruits and veggies removes the pulp, or the fiber, which has its pros and cons. Fiber is crucial to our digestive wellbeing, but if you're eating plenty of other raw fruits and veggies throughout the day, getting plenty shouldn't be a problem!
Without the fiber, it means juice is very easily digested and nutrients are very easily absorbed, giving you an instant hit of vitamin and mineral awesomeness. The body isn't using much energy at all to process celery juice, so it's left to take in the goodness, and use to it fill every cell of your body with living enzymes.
So by all means eat celery too. But a morning juice is a super easy, super quick way of benefiting from this wonderful veggie.
Celery juice is an absolute must if you're looking to win the health race… and who isn't?
There are so many fabulous celery juicers just waiting to whip you up a glass of awesomeness every morning, and have you feeling energized, fighting disease and tackling whatever the day has in store.
You'll love it so much that you might even be tempted to ditch your morning latte for it – but you're gonna have to trust me on that.
The benefits of celery juice have to be seen to be believed, so don't wait. Get yourself one of the best juicers for celery that suits your budget and space from my guide above, and get juicing!
After a month of a daily celery juice (and feeling flipping awesome) remember I said 'I told you so' and make sure you celery-brat the super healthy new you with an extra large glass of juice.
Sorry, that was terrible.