Note: Affiliate links may be used in this post. I may receive a small commission at no extra cost to you if you make a purchase through my affiliate link. Please read my disclosure for more info.
Nothing excites me more than seeing acai bowls on a menu… nothing. Because this is the kind of exciting life that I lead. But, seriously, if you've never had one, you don't know what you're missing. Filling, delicious and nutritious, acai bowls are in vogue right now for a reason… or three.
As nice as it'd be to take a leisurely stroll to my local health food cafe each morning for a fancy-pants acai bowl, ain't nobody got time for that. So how do you make them at home? You might have an old blender or food processor lurking unloved and dusty in the back of the cupboard and think it's up to the job. But to make beautiful bowls quick and easily, you're gonna need some top-notch equipment.
Here's a guide to the best blenders for acai bowls, and how to create the most Instagrammable concoctions. After all, what kind of weirdo makes acai bowls, and doesn't put them online for the world to see?
Just me?
Comparison Table for Blenders
What on earth is acai?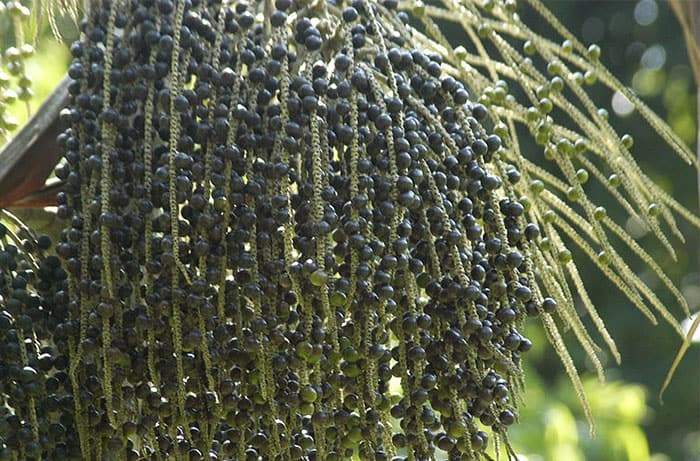 To be honest, I was probably partway through munching my 5th acai bowl before I actually stopped to think about what it was. I knew it was some kind of fruit, but, until I researched it, didn't realize what an amazing superstar of the food world it is.
The acai berry, or, if you tend to deal in Portuguese, Euterpe oleraceae (probably easier to stick to acai), or if you need something super easy to pronounce, the Amazonian palm berry (say what you see), happens to be one of the most nutrition-packed fruits in the world. Native to Brazil, the taste of acai berries is often compared to raspberries, pomegranates, blackberries, and even unsweetened chocolate. In any case, they're sweet, fresh, and absolutely delish.
Antioxdant-rich, energy-boosting and immune-stimulating, it's no wonder the acai berry has been used for centuries to heal the body. Fun fact: the acai berry isn't actually a berry. As they contain pits like apricots and olives, they should really be referred to as a drupe, a 'a one-seeded indehiscent fruit having a hard bony endocarp, a fleshy mesocarp, and a thin exocarp that is flexible (as in the cherry) or dry and almost leathery (as in the almond)'. No idea why they stuck with berry…
What's an acai bowl?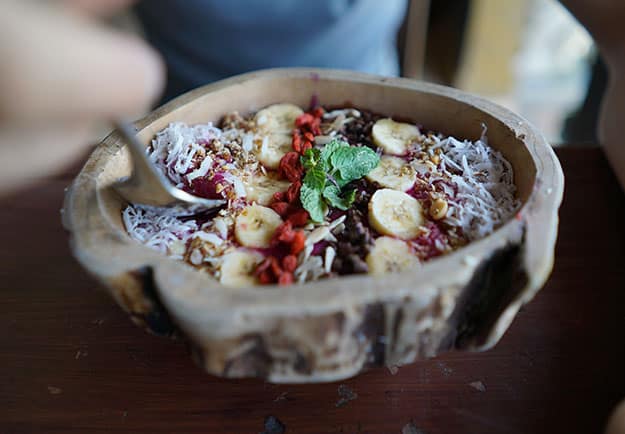 So what exactly is an acai bowl? Like vegans and raw vegans (who do not all walk around with no shoes on, live in handmade yurts or pray to some kind of vegetable overlord), acai bowls come in many forms. Essentially, an acai bowl does what it says on the tin: it's acai berries, usually blended with some bananas, water or nut milk, often topped with fruity decorations that deserve a place at the Met more than they deserve to be eaten, served in a bowl. Shocking.
Highly share-able online, you will have no doubt seen endless acai bowls parading around on social media, showing off in all their rainbow glory, and making your mouth water. So why are they so popular?
Acai Benefits
1) They're jam-packed full of antioxidants
Antioxidants are vital to human health, as they help fight disease in the body, and are great for promoting heart health. Luckily, not only are acai berries absolutely delicious, but they're rammed with the things, making them amazing for your mind and body.
A 2008 study into acai antioxidants found that they were absorbed well by the body, especially when participants ate the pulp. They also found that the same amount of frozen acai pulp had as much as 3 times the antioxidant levels of blueberries, a well-loved superfood.
5 acai bowls it is, then.
2) They're full of fiber
As with all fruits and veggies, acai berries are packed full of fiber, aiding digestion and helping your digestive system to function as it should. An acai bowl a day keeps the constipation away, as the not-so-well-known saying goes.
3) They contain an endless list of vitamins and minerals
Along with antioxidants and fiber, acai berries are a great source of vitamins A, B1, B2, B3, E and C, so it's not surprising that acai berries are often cited as great for your general health, and also your skin. An anti-ageing cream that doesn't cost a month's wages, if you will.
4) They contain essential fatty acids
Acai berries contain essential fatty acids, with a similar profile to olive oil. Fatty acids support the health of your heart, as well as your nervous system.
5) They're not just great for your body, but great for your mind
Research into the health benefits of acai has shown that the berries are high in anthocyanins and phytochemicals, which promote a healthy brain and could even improve memory. Not to mention that if attempting to pronounce these things doesn't keep your brain sharp, nothing will.
6) They taste amazing
As with all fresh fruits and veggies, don't let 'boring' stereotype fool you. The more you choose fresh, natural (and organic where possible) ingredients, the more you'll come to appreciate their beautiful tastes and textures. And acai berries are no exception.
As fancy as they sound, I think acai paste tastes pretty similar to raspberries; they can sometimes have a bit of a sharp after taste, but are still sweet, and simply gorgeous. Acai bowls are my fave way to eat them, but you can buy acai in juices and supplements.
Where can I buy acai?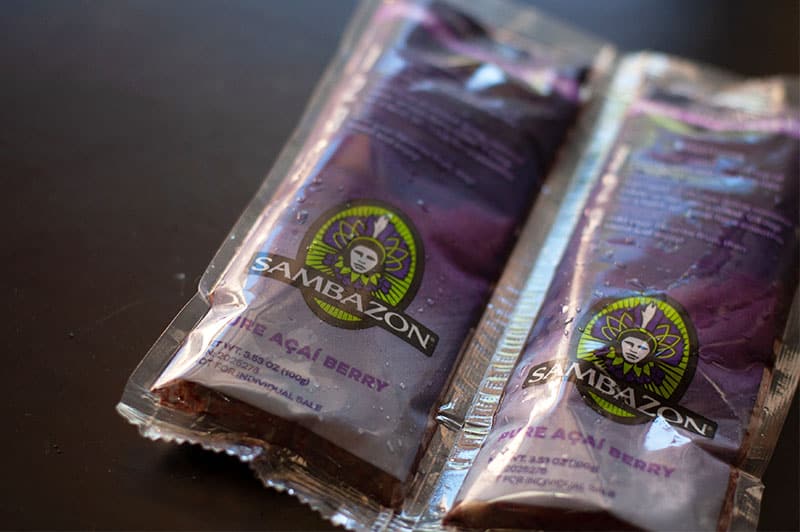 Before you think a trip to the Amazonian rain forest to forage for fresh acai berries is on the cards (although that does sound quite fun to me, to be honest), don't panic. You can now buy acai berries in super handy frozen packs in most health food stores, and online. Online is, of course easiest, and will preserve your energy for the intricate fruit-decoration-making. You're gonna need it.
Before acai berries can be eaten, they must be soaked, as the skin is pretty tough. They're then mashed, forming a gorgeous purple paste. So I know 'paste' isn't the most mouth-watering word, but trust me, it's good.
If you're new to the amazing benefits of acai, this pack of 24 acai berry pouches is a great place to start. Certified organic, and with 3g of fiber per serving, these packs are the perfect foundation for an epic acai bowl. They're delivered frozen, so they don't all have to be used at once (although they're realistically not gonna last more than a week once you get the taste for it).
And once you're an acai queen, whipping up bowls that could be mistaken for fine art, save the hassle and get this amazing value 144 packs delivered straight to your door. Should last about a month, I reckon…
What to look for when buying blenders for acai bowls
So once you're stocked up on acai packs, it's time to get prepared with a good quality blender. The last thing you want is a super lumpy bowl of mush that you can't possibly dream of sharing online. I can't think of anything worse…
Here's a few things to consider when purchasing a blender to make amazing acai bowls:
1) Blending power
Is it going to make short work of frozen acai packs, or will it break at the first sign of anything remotely solid? Purchasing a great blender with power will not only make for amazing acai bowls, but make nut butters, smoothies, soups and other raw vegan concoctions easy as pie. Raw vegan pecan pie. I'm getting distracted, but you see what I mean.
Check out this great guide to comparing blender horsepower. As a general rule, many cite Vitamix as the most powerful blenders.
2) Blender capacity
So you see a seemingly great deal for a blender, and imagine all the epic bowls and dishes you're gonna create for you and the family. And then you find you're struggling to fit a medium sized banana into the container, never mind the 50 other fruits you planned on packing into your delicious smoothie bowl.
There are countless small blenders that are good for smoothies on the go, but if you're planning on creating acai bowls for you and the family (they will demand one when they see yours, just to warn you), get a blender with a decent capacity. Each blender should list their capacity in the description, usually in ounces. Checking out the measurements is also a good idea, depending on how much space you've got in your kitchen.
3) Does it come with a temper?
A temper is essentially a thick plastic stick thing that's used as an ingredient smusher/beater/poker in between blends, but temper is much easier to say. It's really handy to have one of these included, as it'll make breaking down the acai paste and achieving a smooth consistency super easy.
4) The warranty
A good warranty says a lot about a product. Buy a cheap blender or one without a warranty at your peril. The number of 20-dollar blenders I've bought, feeling very proud of myself – and smug, if I'm honest, only to have them break at the first blend of an overripe banana, is crazy.
The price of proper blenders used to make my jaw drop, but, having spent the same amount on various cheap versions and filling the bin with pollution-causing plastic in the process, I would always recommend buying a good quality one that will actually do its job. Oh, how blender-naiive I used to be…
So don't make the same mistake as me, and invest in a good quality blender, with a decent 5 or 10 year warranty preferably. It's a sign of quality, and, of course, covers you if you overdo it with the acai bowls. Not that there's any such thing!
What are the Top 5 Blenders to Buy for Acai Bowls?
All of these blenders have fantastic reviews online. Some are larger than others, some come with tempers and some don't, and some have great warranties. Whether you're on a budget, or you're ready to splash the blender cash, here's a selection of some of the top blenders for making delicious acai bowls.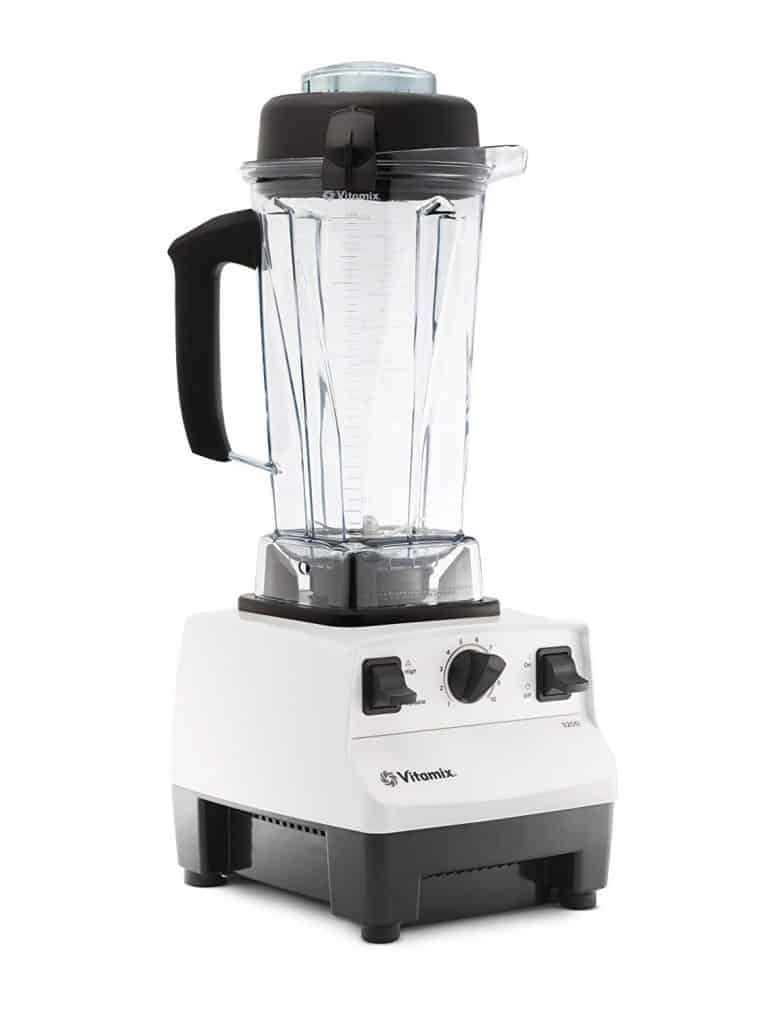 Vitamixes are super popular, and for a reason. Loads of raw vegan YouTubers use these, and they're often praised for their power, longevity, and ease to clean. This Vitamix 5200 is no exception.
Pros
Has variable speed control to achieve desired consistency and texture
Its 64-oz container makes it a doddle to create acai bowls for the whole family
Its stainless steel blades can cope with almost anything
It's so powerful it can create warm soups
It's self-cleaning
Comes with a temper
With 4.5 stars out of 5 on average from over 1,000 reviews, it's safe to say it's highly recommended
Cons
It's quite large, which may be an issue depending on the space you have
The price might shock you, but the amazing reviews suggest that it's worth it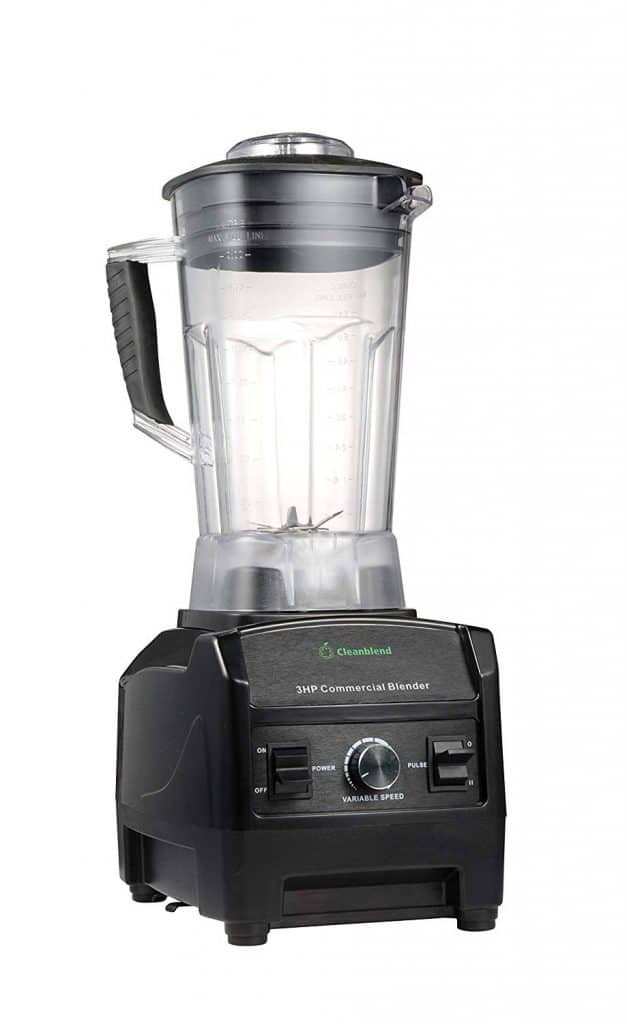 If this commercial blender by cleanblend is good enough for businesses, it should easily do the job at home! And if you get so good at acai bowls that you open your acai bowl café then you don't even have to buy another blender…
Pros
Can pulse and has variable speed control
Comes with a BPA-free tamper
5 year warranty
Large, 64 oz container
Can make ice creams, shakes, soups, sauces… basically anything.
Cheaper than a lot of high quality blenders
4.4 stars out of 5 on average from over 600 reviews
Cons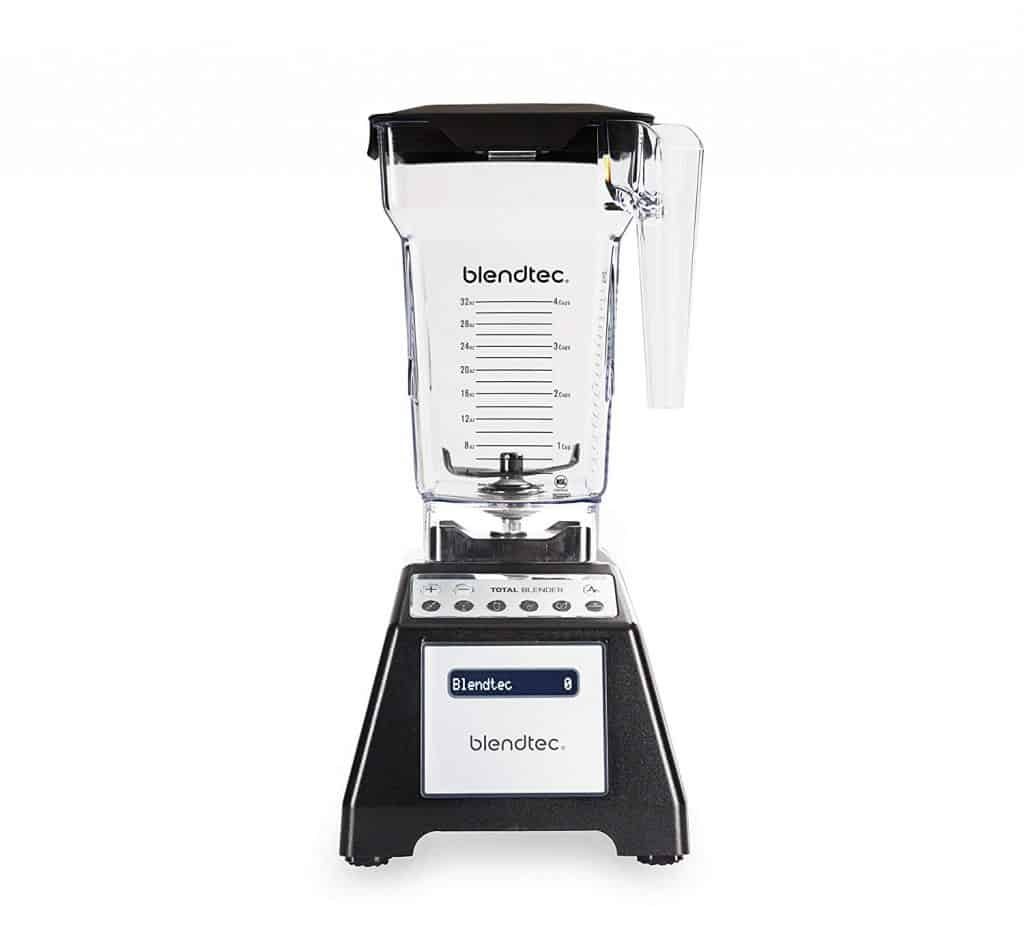 The other blender you may have seen showcased on many a YouTube channel is the American classic, Blendtec. You can't go wrong with this popular blender.
Pros
Adjust the speed whilst blending
Features a patented blade with is 80% thicker
Self-cleaning
75 oz container for large portions
Comes with an 8-year warranty
It's safer to clean the blade as it's blunt
Averages 4.2 out of 5 stars in 1.5k reviews
Cons
No tamper included, but it claims to not need one, thanks to its 5-sided design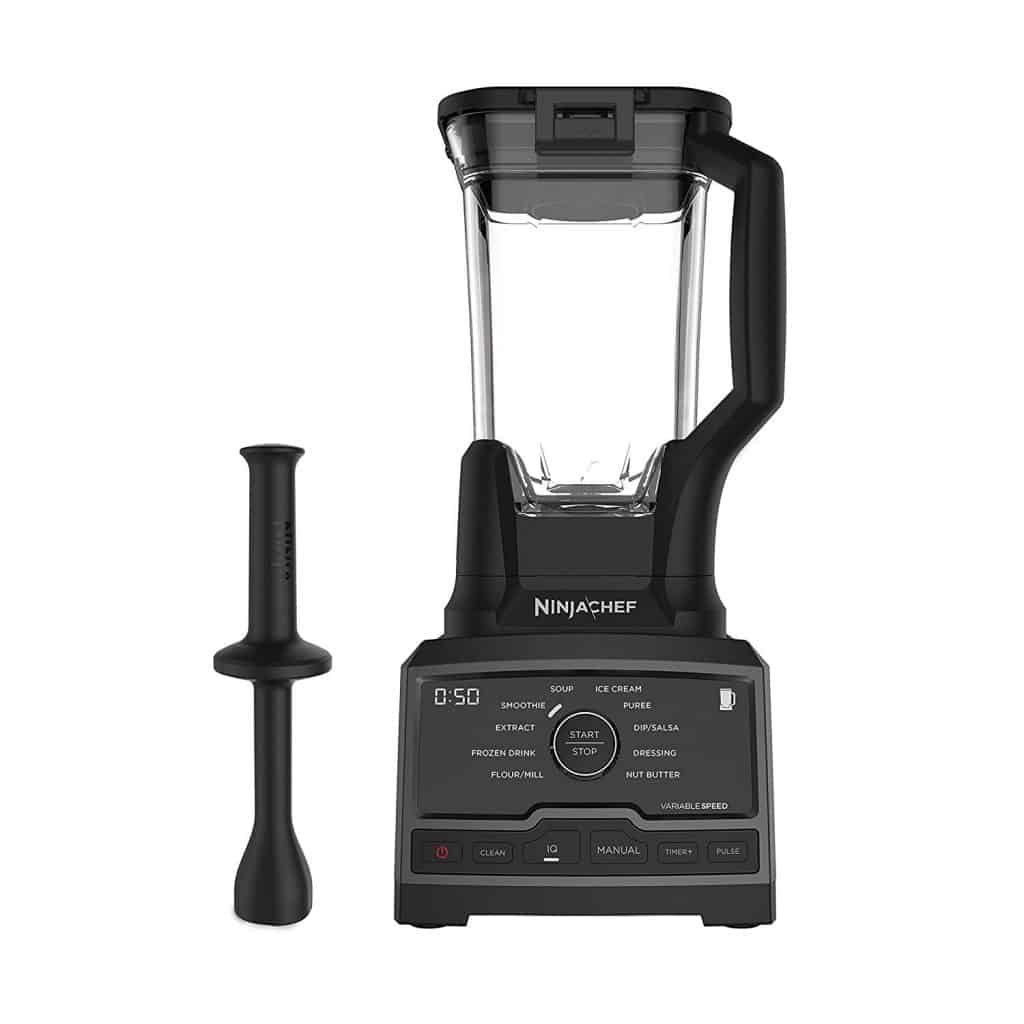 What a name… This Ninja Chef countertop blender really lives up to its title, blending the toughest ingredients with ease thanks to a super advanced motor system.
Pros
1500-watt motor powers through even the thickest ingredients
Features 10 pre-set programs for everything from smoothies to ice cream
Self-cleaning
The attachments are BPA-free and safe to use in the dishwasher
Amazing value for money
Includes a temper
Averages 4.3 stars out of 5 in 170 reviews
Cons
Some reviews say it's noisier than other blenders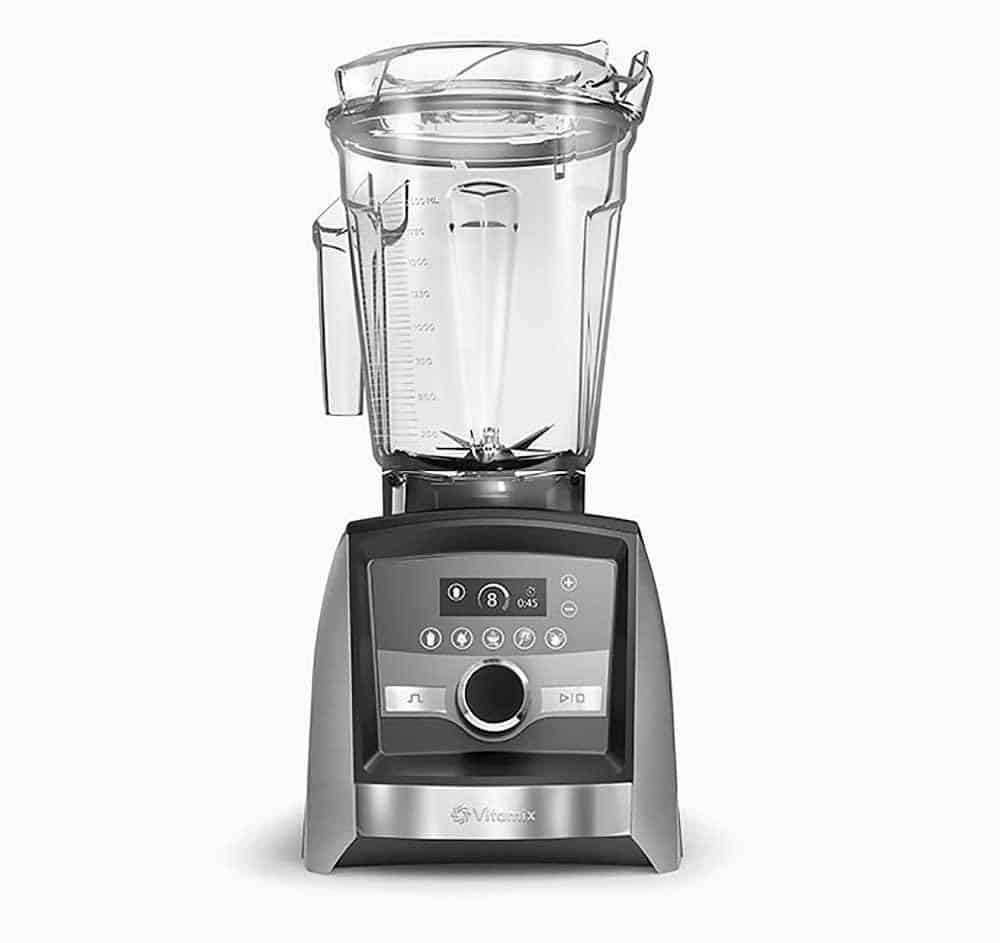 The most expensive of the lot, but arguably the fanciest, this Vitamix is the crème de la crème of blenders, and home accessories really, with it's super sleek brushed stainless steel finish.
Pros
Has five program settings for dips and spreads to frozen desserts
Self-cleaning
Has a built-in digital timer
A great size for every kitchen
Sleek design
Cons
It's the priciest of the 5

Any one of these blenders will have you whipping up acai bowls too beautiful to eat… almost. Just make sure you have a good quality piece of kit before making an acai bowl, or starting out on your journey to living your best raw life. Investing now will save a lot of hassle, lumpy smoothies and broken blenders in the long run. And yes, I'm speaking from experience.
How to make an Acai Bowl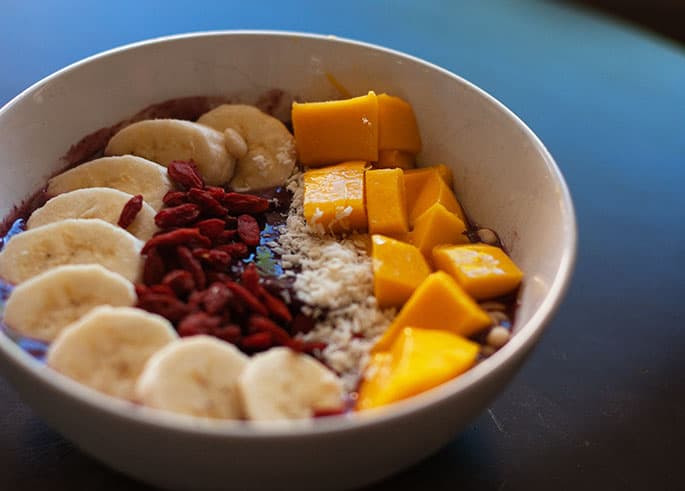 So you've got your acai, and you've got your blender (and hopefully a bowl, of course). All that's left to do is get creative, and produce the acai bowl of your dreams…
What ingredients do I need?
Acai bowls couldn't be simpler. All you need to make them is an acai packet, like the ones I mentioned earlier, some frozen bananas and a splash of liquid. This could be water, fresh juice or maybe even some plant-based milk, like almond or cashew.
As this great video on acai bowls explains, simply pop the frozen bananas, acai berries and liquid into a blender, and away you go! Use the temper to break down the ingredients and adjust the speed to create your desired consistency.
Use frozen ingredients to get creamy texture
Use frozen ingredients, and add extra bananas to get a creamier texture. If it's too thin and runny, your fruit decorations will simply sink into bowl: still delicious, but not quite social media share-able, which is still the most important thing, of course.
Use a high-speed blender
When using frozen ingredients, which are of course tougher for a blender to break down, a cheap one just won't cut it. One of the blenders I mentioned earlier will make achieving an amazing, lump-free consistency super easy, and will be ready to create everything from almond butter, to raw soups to raw cashew cream cheese. Legit.
---
Recent Posts:
Get creative with acai bowl toppings
When you've got your acai-banana base, the world is literally your oyster. Or your fruit topping, if we're being strictly raw vegan about it, not that all raw vegan YouTubers are. From slicing up a fresh banana and adding a sprinkling of chopped almonds, to intricate fruit art, the topping is completely up to you.
Some of my favorite combinations include:
Blueberries, strawberries and raw granola
Banana, mango slices, coconut and chia seeds
Goji berries, blueberries and sliced almonds
If you enjoy socking it to the man, scatter your chosen toppings in a somewhat haphazard fashion. But if you're looking to be the next Fully Raw Kristina, perfectly straight, Instagram-friendly lines of said toppings are optimal.
Share With The World
Once you've perfected your toppings, it's time to snap, filter and share, like the raw vegan stereotype requires. Obviously, I'm kidding. Of course you don't need a filter on those beautiful colours!
The power of fruit to improve human health, and make everyone who follows you online super jealous of your delish creations, really does know no bounds.
Acai Bowl FAQs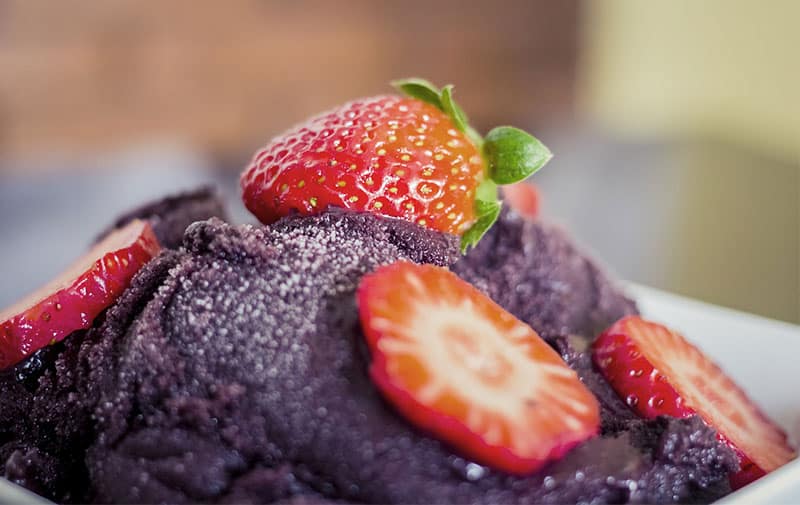 1. Can I eat acai bowls if I'm pregnant?
Absolutely! Not only is it safe to munch away on acai bowls during pregnancy, given their nutritional value, they can contribute to that gorgeous pregnancy glow! They're great energy boosters and, with high numbers of antioxidants, vitamins and minerals, are great for maintaining overall health. Developing a craving for acai bowls? Eat away!
2. Can acai bowls be kept overnight?
Not that you'll be able to resist eating it straight away, but if you do have the willpower, acai bowls can be made ahead of time, and kept overnight in the fridge for the next day. As with all fresh fruits and veggies, the fresher they are, the more delicious, but they can certainly be made this evening for tomorrow's brekkie. Just make sure little greedy hands don't get their mitts on it first. Best to make enough for the whole family, really. Or simply cover with foil or saran wrap, and pop in the fridge, on a high shelf, out of sight.
3. How many calories are in an acai bowl?
Now I don't advocate calorie counting, as I believe it can lead to unhealthy habits and restrictions. A diet soda might have zero calories, but will do more harm than a 300-calorie smoothie to your body and mind. We need calories to thrive, and acai bowls contain the good ones. Depending on what you add to your acai paste and on top for decoration, they can range from a very low calorie snack, to a super filling meal. Regardless, it's doing your body good.
The great thing about raw veganism is that it's about living a berry abundant life. So depending on how hungry you are, go crazy with fruits and a few seeds, and enjoy your food. All the vitamins and minerals crammed into it should help …
4. Are acai bowls good for weight loss?
If you haven't already read my article on raw vegan diets and weight loss, here it is. It explains why raw vegan diets in general are great for maintaining a healthy weight, although overall health should be the main factor in any lifestyle change! Acai bowls are super filling, super delicious and super nutritious (I could totally work for an acai producer's marketing team), and can be eaten as part of a healthy diet, which can help shed excess pounds if you need to shed them.
Eat acai berries in abundance
Acai berries – or Euterpe Oleraceae – or the Amazonian palm berry – whichever you prefer, is undeniably awesome. Put simply, it's a nutritional superstar that's beautifully sweet and aesthetically pleasing to boot. And the best food deserves the best tech.
To create seriously epic acai bowls, only serious epic blenders are up to the job. No matter what your budget, or the size of your space, you'll find a blender to fit your acai bowl (and nut butter, and banana nicecream, and cashew dip, and smoothie, and raw soup, etc, etc.) needs.
I'll be right back. One of my blueberries on my acai bowl breakfast is slightly out of line with the others. Just kidding.
Of course it's in line. I do this a lot.
Recent Posts: